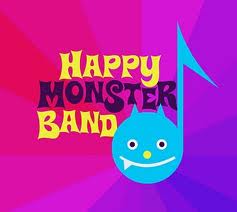 Happy Monster Band is a television short aired on Playhouse Disney produced by Kickstart Productions. Series is Created by Don Carter.
World Tour
Edit
The actual music and vocals are done by [Hall], an American rock band.
The characters and concept for the show were created by children's book author/illustrator, Don Carter. His work can be seen at [1]
Episode list
Edit
No more lists
Ad blocker interference detected!
Wikia is a free-to-use site that makes money from advertising. We have a modified experience for viewers using ad blockers

Wikia is not accessible if you've made further modifications. Remove the custom ad blocker rule(s) and the page will load as expected.